ELEGOO ABS-Like LCD UV-Curing Photopolymer Rapid Resin For 3D Printers
Save up to

$0.00
Save

$-59.00
Original price
$49.00
-
Original price
$59.00
【Low Shrinkage and High Precision】ELEGOO photopolymer resin is specially designed for reducing volume shrinkage during the Photocuring process, which ensures the high precision of the print model with a smooth finish.

【Fast Curing and Great Stability】ELEGOO 405nm Rapid Resin was designed to significantly reduce printing time with its excellent fluidity. Meanwhile, its great stability and proper hardness guarantee a worry-free printing experience and successful printing.

【Bright and Stunning Colors】: With high-quality pigments and photo-initiators inside ELEGOO UV-Curing resin, the models printed with resin have a very pure and stunning color effect just like an artwork.

【Wide Applications】Given the outstanding performances, ELEGOO standard resin is suitable for most DLP/LCD 3D printers. Works best with the LCD 3D Printers.

【Safe and Secure Packaging】Leak-proof bottle fully wrapped with a plastic bubble bag and exquisitely designed package box make sure the resin stays in place where they belong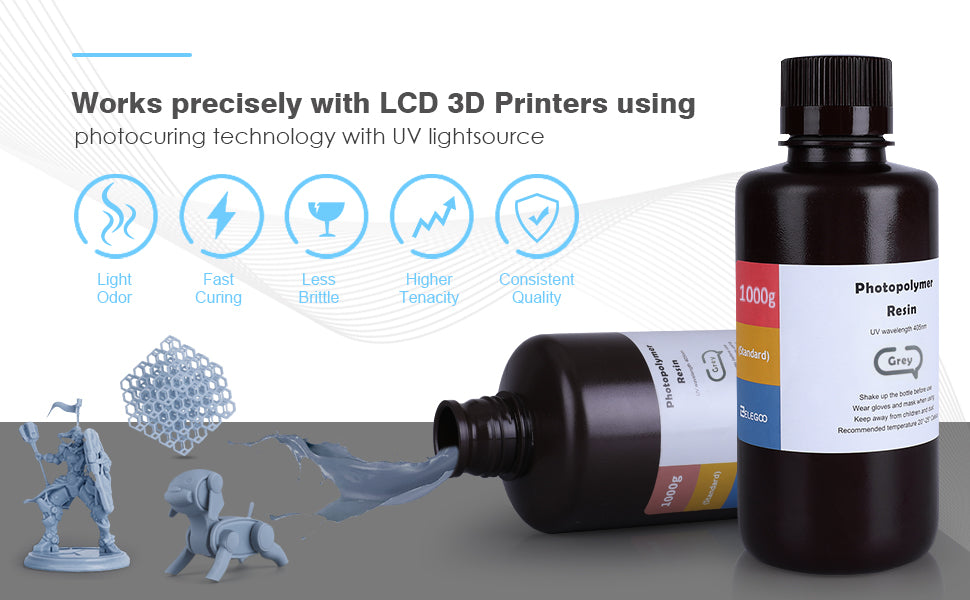 ELEGOO ABS-like photopolymer resin is a type of polymer that changes its physical properties when introduced to light, and it's VOC free. In the case of 3D printing, this is a typical liquid plastic resin that hardens when exposed to a light source, such as a laser, a lamp, a projector, or light-emitting diodes (LEDs) and most of these light sources irradiate ultraviolet (UV) light, which works perfectly with our photocuring resin. It's a perfect companion for LCD 3D printers, and the print quality is excellent in terms of the details and performances.
ELEGOO photopolymer resin is compatible with the LCD 3D printers using the UV light source to cure models.
It has a wide range of applications from board game miniatures to industrial parts and components.
You can also use it to print your 3D CAD design works and make it from an idea into reality.
The only limitation is your imagination. Print now and go with ELEGOO.
Precautions:
Dealing with resin could be messy and risky sometimes. To have a safer and better user experience, please follow the instructions below:
Shake well before use

Recommended temperature 20°C - 25°C

Always wear gloves and mask to avoid direct skin contact

Keep away from children, dust, and direct sunlight

Wash with plenty of water immediately if you get direct skin contact with resin
Printing Setting:
Bottom Exposure:60s

Normal Exposure:8s
Resin Parameters:
Viscosity: 150-250MPa·s

Absorption band: 385nm-410nm(wavelength)

Desity: 1.05-1.25g/cm3

Flexural Modulus: 1.882-2.385Mpa

Bending Strength: 40-70mpa
Thermal Deformation Temperature: 80℃

Volume Shrinkage: 3.72-4.24%

Linear Shrinkage: 1.05-1.35%

Tensile Strength: 30-52mpa

Tensile Modulus: 1.779-2.385mpa

Shore Hardness: 75D

Glass Transition Temperature: 100℃

Notch Impact Strength: 41-48j/m









Light Odor and Consistent Success

Photopolymer resin can be smelly in some cases. With the refined formula, ELEGOO resin has a very light odor and no pungent smell. Long-time printing can be demanding, but ELEGOO resin ensures consistent high-quality prints.

Less Brittle and Higher Tenacity

When it comes to printing industrial parts where the toughness of the model is critical, you will need a high standard resin to enable the prototype to work flawlessly without any issues. Say no to brittleness and use resin of higher tenacity.

High precision and Low Shrinkage

The fantastic detail performance of the models printed with resin is just like artwork. With low volume shrinkage and linear shrinkage, ELEGOO ABS-like resin ensures print accuracy and make sure all the parts printed to fit in the right place.